I went swimming last week. We hadn't really planned it, but somehow the weather got better and better and by Thursday afternoon my son and I decided the best way to celebrate the summer was to head to the loch.
One of the great things about Glasgow is how close it is to some of the most spectacular scenery in the world. On this particular day we jumped in the car, threw in a couple of towels and packed the dog in with us and drove west across the Erskine Bridge towards Rowardennan and a small beach round the corner from the busyness of high summer in Balmaha. The water was warm and I found myself recounting to my son how we'd once had a summer barbecue near the spot we now stood and how, more than thirty years ago, I'd surprised myself by swimming in the cold loch water then loved the afterglow. On our day out it wasn't hard to persuade my son back in, so warm was the water and so blue was the sky. Our dog, recently described by our vet as an 'elderly gentleman' was showing no signs of his years as he jumped and swam, fetching anything we threw in.
I'm still celebrating the freedom to do all of this again. Two years ago we were bound in to our council areas and even as late as April last year we were not allowed far beyond our own local patch here in Glasgow. Maybe it's these small mercies we should celebrate more? I know I've given up on being too ambitious about travel further afield though I'm psyching myself up for the next few weeks when I'm off around the UK and even venturing into mainland Europe on work related adventures.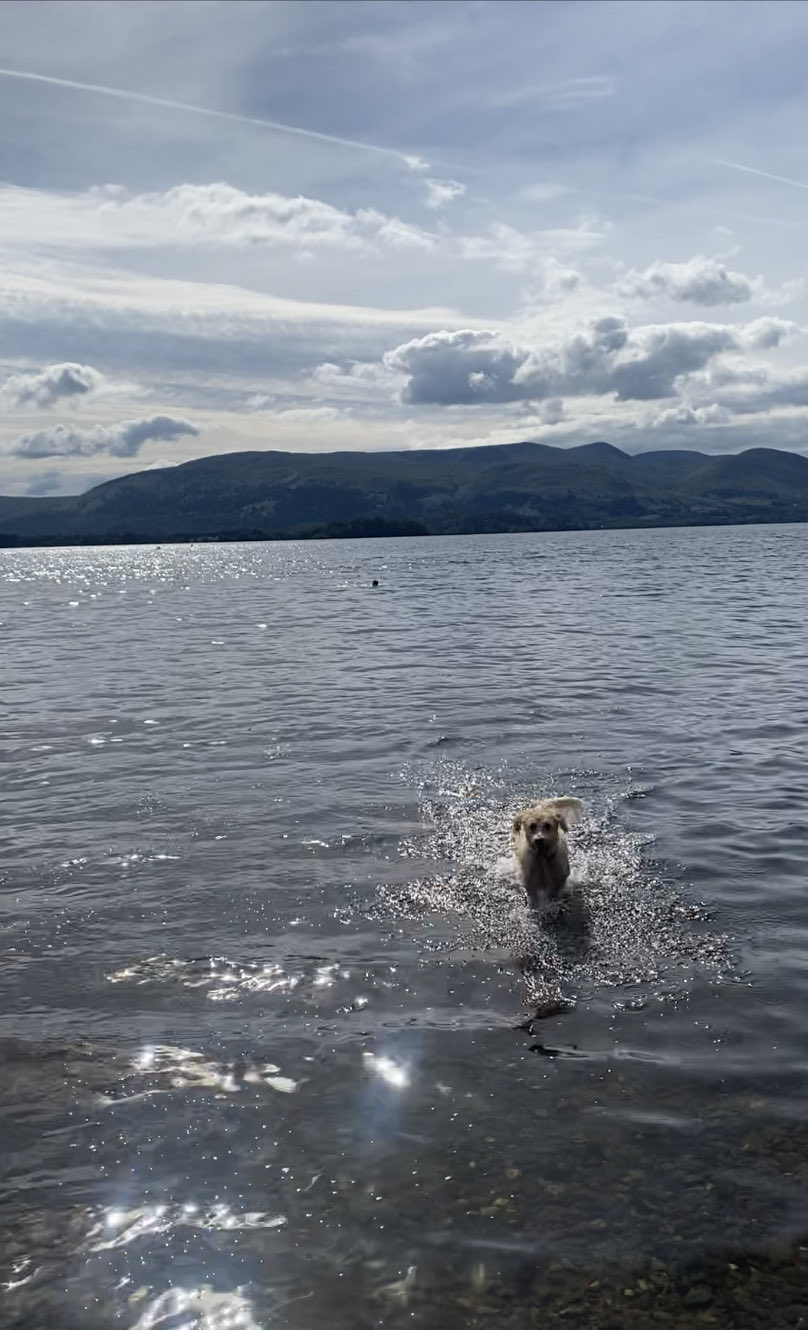 I had another memory of driving up the same Loch Lomond route a few months before we experienced that awful lock down of 2020. I was being sent mixes for our latest album and decided it would be good to download and listen as I travelled. I'm not sure how closely I listened as, suddenly, everything started to sound brilliant.

I'm conscious that many of you will hear Another Country as you travel and some might even turn on the radio as you enjoy a holiday. I hope wherever you are you'll relish what we bring you over this summer. On this week's show you'll hear some cowgirls, the occasional fantastic cat and some distant thunder. All courtesy of Kacey, Miranda, Kelsea and our old friend and Nashville correspondent Bill Demain. We open our doors at five past eight and you can find us on BBC Radio Scotland airwaves or on BBC Sounds if you're listening beyond our borders. Whichever way it will be great to have you along for the ride.