It's the first Monday of July as I write this on, what would have always been, the first day of our children's school holidays. As I thought over this towards the end of the last week of June I experienced a strange nostalgia for summers past. There was a frisson of excitement as the last weeks of summer term passed. Children would return with drawings and folders of a year's work, plays and sports days would be attended by an excited family and as the calendar clicked through those final days of June an anticipation of the holidays began.
Tasks like packing, boarding cats and dogs and leaving instructions for neighbours to water a flower basket or two all seemed hugely worthwhile in lieu of the approaching summer vacation. The roof box would be secured onto our big old shooting brake and we'd wind our way south to warmer weather and the lure of the Mediterranean sea. Two of my daughters still have lingering resentments about how often I played the new Rufus Wainwright album over their S Club 7 CD on the long stretch from Calais to Lyon, before we made our overnight stop. On the best days we all fell in love with the same songs and I still have a lingering fondness for Reach by the S Club as it reminds me of happy times. Our youngest, the boy, was only pacified on one Spanish break by repeated plays of Coldplay's The Scientist which (aged 3) he liked to call 'Going Back to The Stars.' I'm not sure that isn't a title worth exploring in another song.
So it was these memories drifted through my head as our train wound its way back to Glasgow this weekend after a visit to see the same son, now 21 years old, in his London base. This weekend found none of our offspring near home at all and I found myself feeling glad that the first week of school holiday weather wasn't going to affect any of their immediate plans.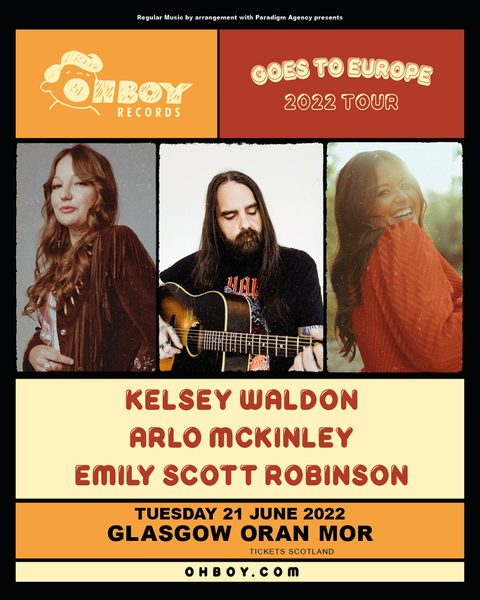 The upside of all of this is I get to spend the early part of summer each Tuesday in the AC studios. As life moves forward we have managed to record some significant sessions and conversations which we will be broadcasting over the next few weeks. First up is the round we recorded with three of the recent OH BOY Records artist. On this week's show you can hear songs from Emily Scott Robinson, Kelsey Waldon and Arlo McKinley as they showcase songs from their current albums in the round in our very own Studio One. It's a magical space in which we've recorded some great sessions over the many years we've been on air and for the first time in a long while we welcomed four musicians to play, sing and talk. You'll hear their songs and stories, why John Prine signed them to his label and their own tribute to the man himself. It's a fascinating hour which will fill the second part of this week's show. In the first hour we'll share some great new records by Hannah Read and Michael Starkey, Angel Olsen and Joe Pug. We do this in two hours on BBC Radio Scotland from five past eight this Tuesday evening . Join me if you can.